Sunday League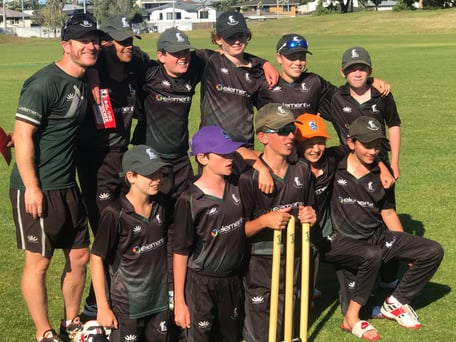 The Sunday League competitions have been formed for the following reasons:
The form a competion to promote a link for junior players to a senior club in the hope of encouraging these player to continue playing club cricket when they leave school.
To provide a competitive competion for players to play against the better players in their age group. It allows for players to play to their strongest attributes rather than everyone getting a turn at each skill.
Games are played on grass wickets and with official umpires whenever possible to give the players experience under these conditions.
SUNDAY LEAGUE AT OTUMOETAI CADETS
At Otumoetai Cadets we consider all our Sunday League squad to be full members of the club even though they may play their Saturday cricket elsewhere. We endeavour to make all our member feel part of a club environment where they feel welcome and they can develop their game as well as relationships with other club members.
Player Eligibility
Any player of the appropriate age group is welcome to join or Sunday League squads. Player that already play their Saturday cricket at Cadets are automatically available for selection. Players who may play their Saturday cricket elswhere, e.g. Albion, TBC, Aquinas etc. can also register just as a Sunday League player.
Costs
Regular Saturday players - no registratation costs
Sunday League only players - $60 season registration fee (covers the cost of coaching and practices)
Match Fees - these are only charged to those players that play games ($5 per T20 game, $10 per 40 or 50 over game). These match fees are charged to all players who play and cover the cost of balls and umpires.
Practices
Sunday League practices are run with our Saturday teams as one group. This gives all players the opportunity to be involved and have a chance to challenge themselves against players, maybe seen as being at a higher level, and get the chance to impress and make the playing team for Sunday's games. The practices are run by our club coach, Sam Owen.
Year 7/8 practices - Tuesdays from 3.45pm - 5.15pm
Year 9-10 practices - Thursdays from 3.45pm - 5.15pm
Selection Policy for game day
At Cadets we do not gaurantee any of our squad members game time. It is important that people looking to register for Sunday League understand that this is the case. We select the best team available for that particular match which may come down to form, the type of match being played or team balance as far as skill sets are concerned. We do feel that even if a player does not play many/any games they will still get good development opportunities through practice and being in a positive environment. Teams are not picked on the basis of the oldest get priority although in many cases younger players may need to bide there time if there are a good bunch of older players above them.
Match Day
Each team will have a coach/manager who will be with them on match day.
We encourage our players to take responsibility on the field and for captains to be in charge of setting fields and problem solving. Coaches/managers are there to give advice in breaks and before and after but it is not intended for them to take over with field placements etc. while the game is happening.
All players will be provided with a playing uniform for the match if they do not already have one.
The Competition Format
Year 7/8
This season the Year 7/8 grade will play five T20 matches in Term 4 with a finals day for those teams to make it through. Some games may be played mid-week and the rest on Sundays (2 rounds in one day).
There is no Sunday League games scheduled for Term 1 but we will look to get some organised outside of the competition if there is support for that from the team and parents.
Year 9/10
The Year 9/10 grade will play T20 matches under the same format as the Year 7/8 grade in Term 4 and a 50 over round robin in Term 1.
Year 11-13
The Year 11-13 grade will play a T20 round robin and finals day in Term 4.
The format for Term 1 is yet to be confirmed.