2019-20 Prizegiving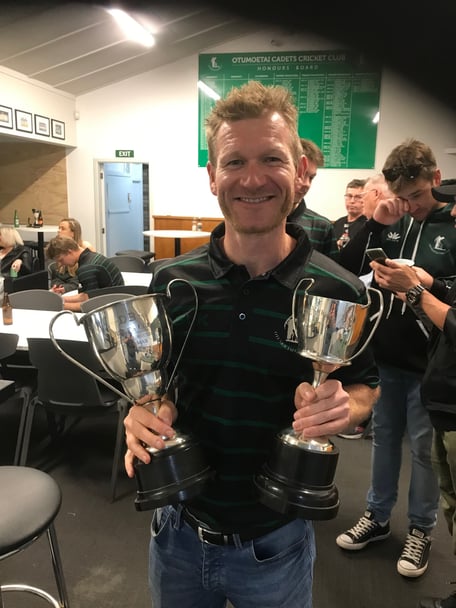 Although Covid disrupted the season and prizegiving had to be delayed until just before the new season that didn't stop a great turnout for prizegiving. Once again the room was packed for Junior prizegiving and added to the junior players and parents were a good number of senior players and a couple of of life members in Brian Pope and Paul Wills.
Before going through the prizewinners it would be amiss not to mention Jono Boult. A special presentation was made to Jono at the end of the night in recognition of his long time service to the club as both on and off field. As you see in the awards for this season and the Premier honours board, Jono has been an immense player for the club over the period of about 18 years. He has represented BOP and Northern Districts with distinction and has won everything possible at some stage with Cadets including the National Club Championship. He also has the top score for the club of 200*. It was an emotional moment when he was presented with his award and left old time club members trying to remember (in vain) any time previously when Jono had been speechless. We wish Jono all the best with his new family and hope to still see him at the club in the future.
Major Awards
Club Man of the Year: SAM OWEN
The Club Man of the Year award is the most prestigious annual award in the club and there is no more deserving recipient than Sam Owen. Every player at the club should know Sam as he coaches every team. He captained the Senior Reserve team on Saturdays, often seen as the toughest job, and then turns out at the Superclub games on Sundays as well, meaning a very busy schedule. He has a great rapour with our junior players and is a huge factor in the positive spirit that seems to exist within our juniors. As well as that he ran the Superstar program for the youngsters on Friday nights and is often at the clubrooms either tidying up, stocktaking, organising team uniforms for the weekend etc. etc.
Congratulations Sammy.